Welcome to governor room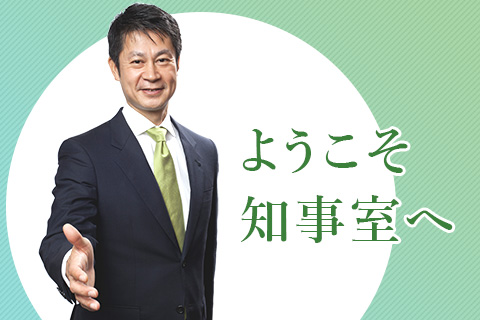 In Hiroshima, there are industry with competitiveness and accumulated technically superior human resources, globally comfortable natural environments, many powers and treasure including world heritage. You must utilize this power and treasure to the maximum to build the future when Hiroshima accomplishes new development, and there is vitality while we face the depopulation, aging, population decline.
We understand "action idea of the Hiroshima staff" which clarified missions that prefecture should scarcely serve as such a thing in mind in personnels and share, and, "citizen of the prefecture starting point," "spot principles" will be thorough in daily duties about "three point of view" of prefectural government administration called "conversion from budget intention to result intention".
After that, with all powers of the prefectural office, we draw the real ability to have of Hiroshima to the maximum and perform various challenges to bring about vitality that is new in the making of person, economy, every field including living and will realize Hiroshima where I think, it "was good in Hiroshima birth, breeding, we live, and to work" heartily with citizens of the prefecture.
Governor of Hiroshima Hidehiko Yuzaki
Recommended contents
Please tell me voice of everybody