---
Hiroshima Prefectural Museum of History
The Medieval Port Town in the Setouchi Area, "Kusado Sengen" Brought Back to Life Now
Hiroshima Prefectural Museum of History is a museum focusing on the History and culture of the people in the Setouchi area, with the main feature of the remains of "Kusado Sengen," which is nationally famous as a medieval port town buried in a riverbed.
The Setouchi area has played an important role in the history of the Japanese islands as a cultural main artery connecting the Kyusyu district and the Kinki district. We introduce to you the life of the people who were active in this area, and the wonderful culture fostered by them through providing a variety of opportunities of learning such as exhibitions, lectures, movies, and workshops.
...more about "Kusado Sengen" from here
Location
2-4-1 Nishi-machi, Fukuyama City, Hiroshima Prefecture, 720-0067, Japan


Phone and Fax
Phone: +81-84-931-2513
Fax: +81-84-931-2514

E-mail address
rhksoumu@pref.hiroshima.lg.jp

Hours
From 9:00 a.m. to 5:00 p.m. (You cannot enter after 4:30 p.m.)

Closed
Every Monday (except for national holidays)
Year-end and new year holidays
We may be closed temporarily because of the change of exhibition, and so on.

Admission Fee


| Classification | Individual | Group |
| --- | --- | --- |
| Elementary,Junior High School and High School Students | Free | Free |
| College and University Students | 210yen | 160yen |
| Adults | 290 yen | 220 yen |

The goup admission fee applies to groups of at least 20 persons.
Trace the History of Setouchi Area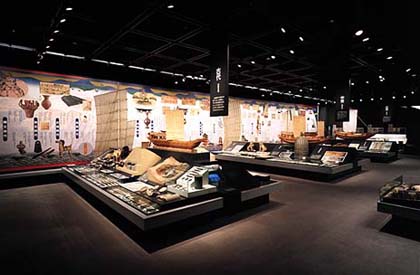 To position "Kusado Sengen" historically, the stream of its history is traced from the primitive age to the modern age with the theme of "the life of the people" in the Setouchi area and "transportation and trade" by exhibiting real materials, replicas, models and so on.
Kusado Sengen Revives Today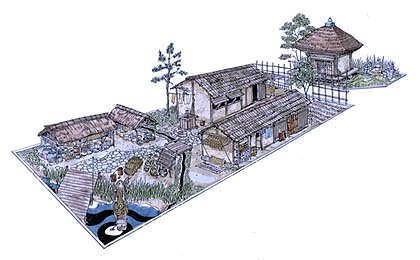 One section of "Ksado Sengen" has been reconstructed to life size, and an evening in an early summer of the Muromachi Era has been reproduced.
Real excavated articles are displayed around the reconstruction according to the use so that you can have a concrete understanding of the life of the people and the culture of that time.
Excavated Articles Tell Us about Middle Ages
Remains excavated by the research of "Kusado Sengen" over more than thirty years and related materials are placed methodically, together with the introduction of medieval important remains from all over the country, so that you can deepen your understanding about medieval remains.