---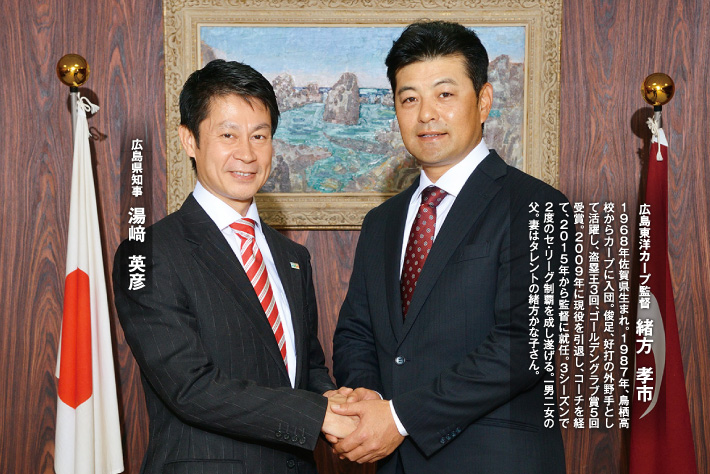 Courage that we accomplish the first Central League straight victory in 37 years last year and do not entrust Hiroshima citizen of the prefecture with and we whom he/she impressed are Karp.
Governor Hidehiko Yuzaki of carp fan who represented prefecture talked with Manager Koichi Ogata who led team to laurels by tenacious command hot.
Player was able to enjoy this parade heartily, too.
Yuzaki: At first congratulations on league straight victory.
Thank you for much courage and impressions to citizens of the prefecture every year.
Is it thought that the secret of straight victory was where?
Ogata: We think that it is that young generation such as thicket field and Okada buried big hole after pitcher Kuroda who was column of team retired.
Of course simply because it had support of fielder that they were able to play an active part.
We were supported, and there was ideal fight that battery was engaged through season in the powerful batting order which he/she bounced even if several points were taken.
Yuzaki: We were able to surely watch fight of carp in peace, too (laugh).
Championship parade was atmosphere relaxed very much, too.
Ogata: It was all could do, but thinks that fan was able to enjoy oneself whether we may say the second, and feeling was better off as we just wave hand to large cheers of "congratulations" hard in the last time when player poses in response to request of fan of roadside in this parade.
Yuzaki: For present Karp, we are young, and cheerful player is thing which it is really a lot.
Ogata: Not only we are young, but also there are many mood makers, too, and atmosphere is perfectly bright.
As far as overall air may get heavy by all means partly because defeat continues in long seasons, but is reliable as there are many players who can light expression of all suddenly in our team.
It was not myself, type originally to make person laugh, but came to be always conscious of the making of bright mood after we were supervised.
Yuzaki: As supervisor thought that there is stoic image from the active play era, it is unexpected (laugh).
Gain league the third straight victory this year, of the heart's desire what is necessary to become number one in Japan?
Ogata: It will be that all the players have strong feeling, "we win consecutively, and three becomes absolutely number one in Japan!".
Therefore we will test newer player by camping and exhibition game from now on and make new team more advanced than last season.
Please be looking forward to.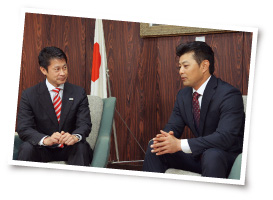 Letting you endure key of "the making of person" and acquire experience
Yuzaki: Local promising star, joining an organization of chumurashonarisenshu were decided this year, too.
We are wrestling as important theme by "the making of person" now in Hiroshima.
What is point to bring up young person?
Ogata: We adult is "to endure".
Learn condition for player to grow from failure.
We do not judge only from results and let you load experience patiently while looking at process and contents.
Because each player joining has high potential with him/her, we are apt to expect just ability things more than, but think that "mental attitude" of not only player but also leaders formation is important to have you touch fertility of soil steadily without being kept for at hand results.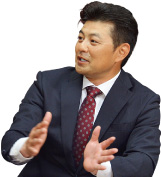 We give up neither work nor living
Art of "greed life" makes a plan, and spend time
Yuzaki: What is it done in off?
Ogata: As it has only off to be able to take communication with family well, at first we value that time.
Though we only follow place that children want to go, we go out for trip in families.
As son grows big and came to play sports, we go to see it and it is not the active play time, but continues training and jogging.
Then it is cleaned for important pet dog walking…Off is over this busily plenty, too (laugh).
Yuzaki: Splendid.
In Hiroshima, we support "greedy lifestyle" to give up neither work nor living.
Please let know while you're busy if there are arts to make time.
Ogata: We think that it is the first to make a plan properly to spend time effectively.
There is not to think about what you do in off for the active play era and, anyway, wanted to relax, but we decide time properly every day now and live a life.
It is planned one that walk is important of the pet dogs (laugh).
Yuzaki: Then, to supervision, ambition of this year and citizens of the prefecture, I would like hot message.
Ogata: Hiroshima is place representing the world that Japan which lot visits by sightseeing from home and abroad is proud of.
Every game is stadium dyed red-hot and, in the ground, is proud of being able to play baseball and having citizens of the prefecture enjoy.
Yuzaki: Likewise, carp is pride of Hiroshima.
Ogata: It is our work to have fans please to win game as team of professional baseball.
I would like encouragement not to change this year as we exceed baseball team's first "league the third straight victory" and CS and try hard to meet expectation of towards big aim acquiring "Japan's most" that is earnest wish.
Yuzaki: We support with all the citizens of the prefecture so that Karp shows power.
Thank you today.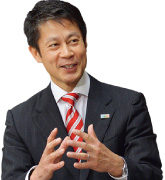 When you see file of Portable Document Format, Adobe Reader which Adobe company provides is necessary.
Please download one that does not have Adobe Reader from link of banner. (free)
If this page is useful, please push lower noiine bouton.