According to "the working papers about violence between man and woman," results of approximately one of 13 appear to approximately one of 20 people with damage experience had sex by force only for woman in 2017 that the Cabinet Office gender equality station announced in March, 2018. However, on the other hand, data which approximately 60% of damaged woman, approximately 40% of man do not talk about with anywhere become clear.
Though sex damage has a big influence on heart and body of person who received it, we become quiescent and let we are prolonged, and damage worsen.
As window which we can talk about 24 hours a day, every day, we run "sex damage one stop center Hiroshima" without person met for sex damage and which there is around holding damage in Hiroshima.
Not only, in center, member of specialized support accepts telephone consultation, but also supports introduction or attendant to associated engines such as interview consultation and medical institution and the police, lawyer as needed. In addition, we push forward general support that cooperated with engine which we can provide a smooth care for including the second damage and consideration to privacy.
Furthermore, we widen width of support from this April and we fix environment that it is easy to talk about more in peace and start real administration. It was regular and located supervisor who coordinated necessary support generally in the eastern part, northern part area to cope with consultation sent from various places throughout the prefecture quickly to find registration counselor or specialized support engine, and to cope with the number of consultation to increase.
"Sex damage" is not only (rapes) such as forced sex. All the sexual acts that what we do, releasing it without permission, sexual oneself including annoying do not expect from thing and subject showing act to conflict with body and the sexual organs and pirating, showing the sexual organs, pornography picture, photograph are sex damage. In addition, it may be thought that there is much damage from unknown person, but much one is damage from familiar person by real consultation. Real damage may be that we are more immediate.
It is not rarely said that we should talk with person encountered damage blaming oneself and what to do trouble, whom, or it is not revealed. As consultation that we accepted in center may not be known to another person, which we encounter damage and are troubled with or troubled with, please talk if around without being alone, and holding.
And, toward all, please learn that there is place that we can talk about in peace anytime.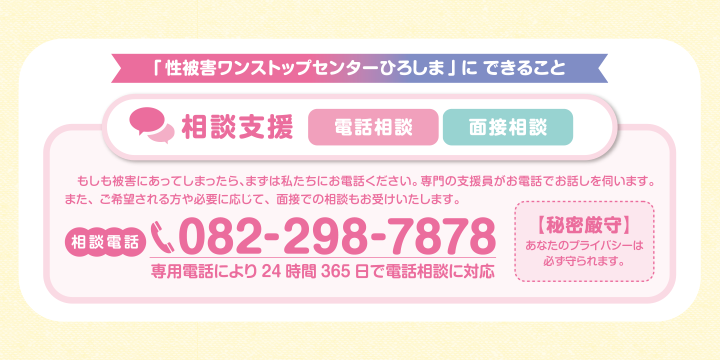 Detailed information
Please talk with "sex damage one stop center Hiroshima"; - Hiroshima website

Related information
It is - Hiroshima website about sex damage one stop center Hiroshima consultation dial
Current situation - Hiroshima Police website such as sexual crime, calling case
Investigation - Cabinet Office website (external site) about violence between man and woman